WeblocOpener online
read more
Hello! My name is Eugene Zrazhevsky. I am WeblocOpener developer.
Most of users of WeblocOpener download it to open
.webloc
file for one or two times.
So why they should do it? What if there will be a new service, based on WeblocOpener project,
that will give the same options?
So I've got an idea: website (or telegram bot) with WeblocOpener options: open, create
.webloc
files,QR-Code generators with drag-and-drop features.
All of it can be realised, but there is a problem:
Github pages does not support java projects, so I need a new hosting (with domain name in case of website).
Good hosting with good options cost for 1-2 year of using:
$250
-
$500
.
If you want me to realise this idea, please donate, and when it's ready - you will be able
to operate with
.webloc
files without downloading the app.
P.S. There is a pool in WeblocOpener's telegram channel. If we imagine, that I have all money
I needed to make WeblocOpener online possible, what it should be: a website or a telegram bot.
Link to a pool:
link
.
Introduction:

WeblocOpener is a simple way to open, edit, create MacOS Safari .webloc files on Windows and Debian GNU/Linux.
.webloc file?
What is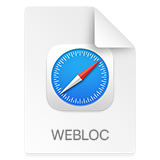 .webloc extension is usually means that in front of you is a MacOS Safari web-url.
Actually it is a text document, formatted to property list — PLIST 1.0 (see).
You can open it with any text-editor (like notepad on Windows) to find out the url, saved in .webloc file. But if you need to open a big number of files or open them often — using text-editor wouldn't be the fastest and the easiest solution.
So that's why I want to offer you — WeblocOpener.
Features

What can WeblocOpener do?
WeblocOpener gives full MacOs .webloc files support on Windows and Debian GNU/Linux.
Open .webloc files.
Choose not default browser to open URL. Open in browser from preset or use custom.
Browsers in preset:
and more... or you can use your custom browser.
You can use any custom browser by your own with custom call, using syntax: <file_path> %site.
Convert .webloc to .url or .desktop and backward by using drag and drop on settings window.
Create new .webloc files. Created files are fully supported by Safari on MacOS and WeblocOpener on Windows.
Edit created files. Unlike .webloc files on MacOS that can not be edited by default (except for text editors), WeblocOpener provides the ability to edit .webloc files.
WeblocOpener will try to get the title of page from inserted url and will give you an option to rename it by this title. Now there is no need to name files by yourself.
Auto-paste URL from clipboard when you created a new file. When you've just created an empty file, WeblocOpener helps you to paste copied URL into ULR-field. It automatically finds an URL in your clipboard.
Dark mode will protect your eyes at night. It turns on automatically scheduled or by your location. Check out in settings how to customize it for yourself.
New settings window can give you abilities to change: dark mode, language of the application, converter mode. Here you can create new file, if you are using Debian version.
Generate QR-Code from .webloc context menu. Just make a right-click on a .webloc file and select "Generate QR-Code". You can simply use it to open the link directly on your phone!
Generated QR-Code you can save on your hard drive to share, print or else. Or just copy it to a clipboard.
Copy link from .webloc file using context menu. Make a right-click on a .webloc file and select "Copy to clipboard". And you can send it to your friend without opening file!
Auto-update tool will help you receive new updates just from the server. You should not check, if there is an update, WeblocOpener updater will notify you if there is a new version of the app.
Find out, what's new in new update. To use it - go to WeblocOpener Settings -> Main -> Check updates. From version 1.9 you can install beta versions.
Added new algorithm that gives ability to open files with unsupported by command line symbols. If there are 2 or more files that look like you choice - WeblocOpener will ask you for selection.
Supported languages:

EN

IT

RU

DE

FR
What can do WeblocOpener on Windows?
What can do WeblocOpener on Debian GNU/Linux?
System Requirements
Type
Requirements
Operating system
Windows XP (SP3), Vista, 7, 8, 10
Debian GNU/Linux
CPU
Pentium 2 266MHz or better
Memory
128 MB RAM
Hard drive
25 MB free hard disk space
Additional software
Java 8 required - Download
Supported features
| Feature | | | |
| --- | --- | --- | --- |
| Open | | | |
| Edit | | | |
| Create new | | | |
| Generate QR-Code | | | |
| URL auto-paste | | | |
| Instant URL and QR-Code copy | | | |
| Converter .webloc to .url to .desktop and backward | | | |
| Auto-update | | | |
| Open in not default browser | | | |